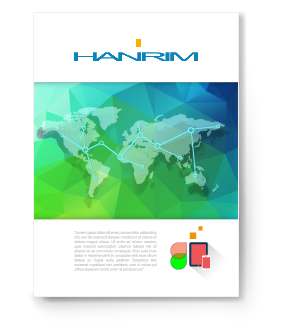 Thank you for visiting the homepage of Hanrimmunhwasa.
Hanrimis a business that specializes in various printed materials including catalogues, brochures, advertisement, leaflets, posts, periodicals, etc. It services the domestic market, as well as markets in overseas countries (U.S.A., Japan, China, Russia, Vietnam, Thailand, Australia, etc.), with its premium design competence. We strive to conquer the global market.

The philosophy of Hanrim stems from the entrepreneurial spirit, particularly, the leadership of CEO Ju-yung Chung who successfully developed the world-renowned business Hyundai.
He started his career from a poor home, without any capital, and he went through all sorts of ordeals. However, he was faithful; one well-known saying of CEO Chung that related to his faithful nature was, "Hey! Have you given it a try anyway?"

At the beginning, whenever CEO Chung tried, everyone would say, "No, that is not possible"; "It will fail"; or "You'd make your company fail". At that time, as he urged them to try things themselves, he would say, "Hey! Have you given it a try anyway?"

One incident related to this was the construction of his shipyard. When he said that he would build the biggest shipyard in the world, people said he was crazy and they persuaded him not to attempt building it. But back then, he said, "Hey! Have you given it a try anyway?" He went to Europe with a photo of a sandy beach, a blueprint of an oil tanker that was borrowed from a foreign shipyard, and 500 KRW bill with a turtle ship print.

Although he was neglected somehow and treated as a crazy man, he eventually secured a loan from Barclays of U.K. and successfully concluded a contract for two oil tankers from the shipping magnate.

If he settled for the saying that "This may be impossible," then would it be possible for Hyundai to exist today? He was successful because he bravely overcame the challenges and he did not give up by repeating to himself, "Hey! Have you given it a try anyway?"

Do not hesitate in your quest to find out whether something is possible and try doing it first. If you face the challenges, you can succeed and grow. So when you have doubts about something that must be done, ask yourself, "Hey! Have you given it a try anyway?"

With this idea, Hanrim promises to be a business that will continuously challenge itself and strive towards a bigger future.
주 소 : 서울특별시 중구 초동 21-1 우일인쇄빌딩 4층 502호
전 화 : 02) 2274-8775
팩 스 : 02) 2267-7448

버   스 : 간선604, 지선7011
지하철 : 3호선 을지로3가역 9번출구로 나온 후 바로 우회전하여 50미터 거리